Boston Celtics 2023 Tropical Palm Leaves Aloha Hawaiian Shirt Boston Celtics Hawaiian Shirt New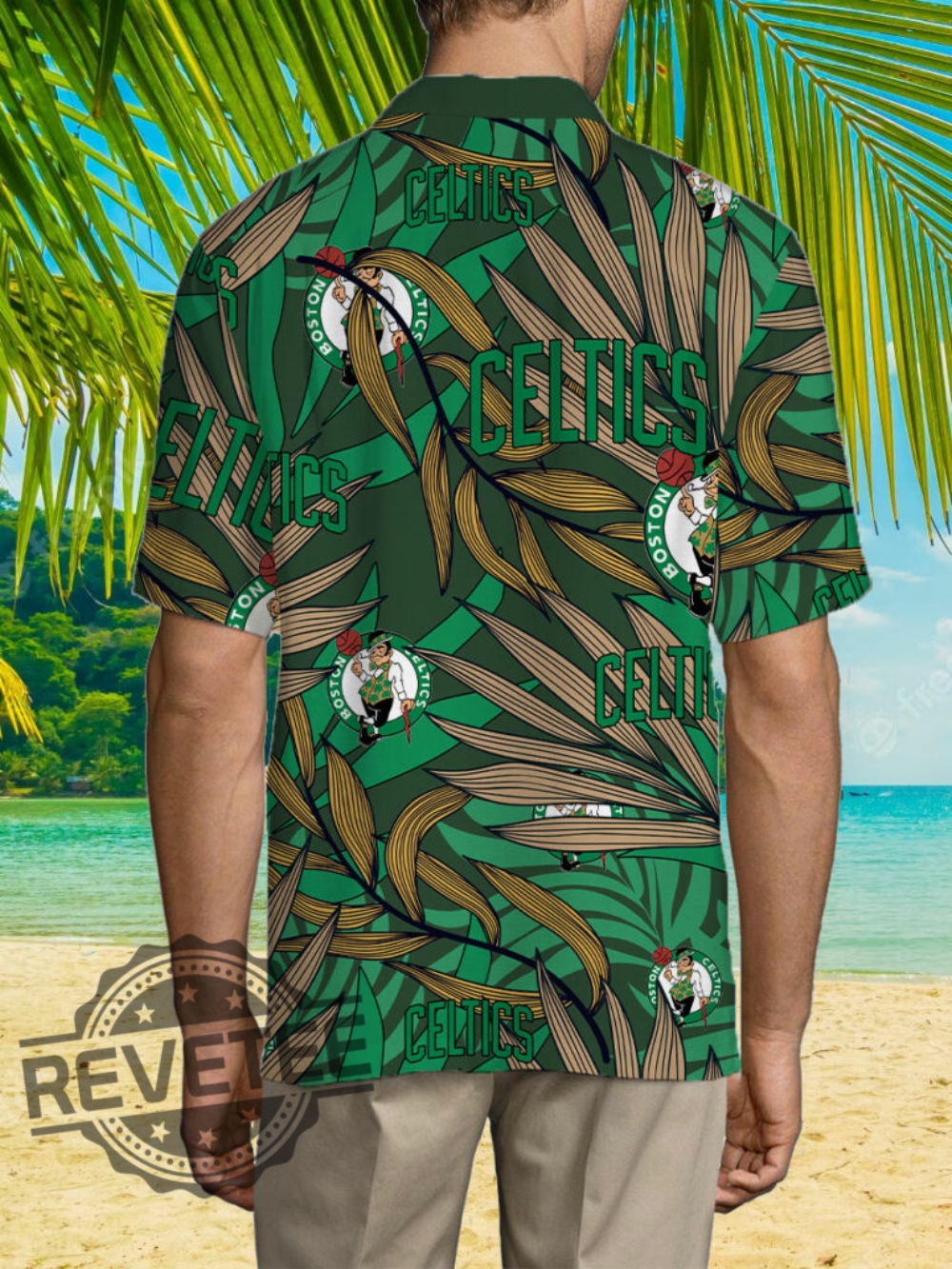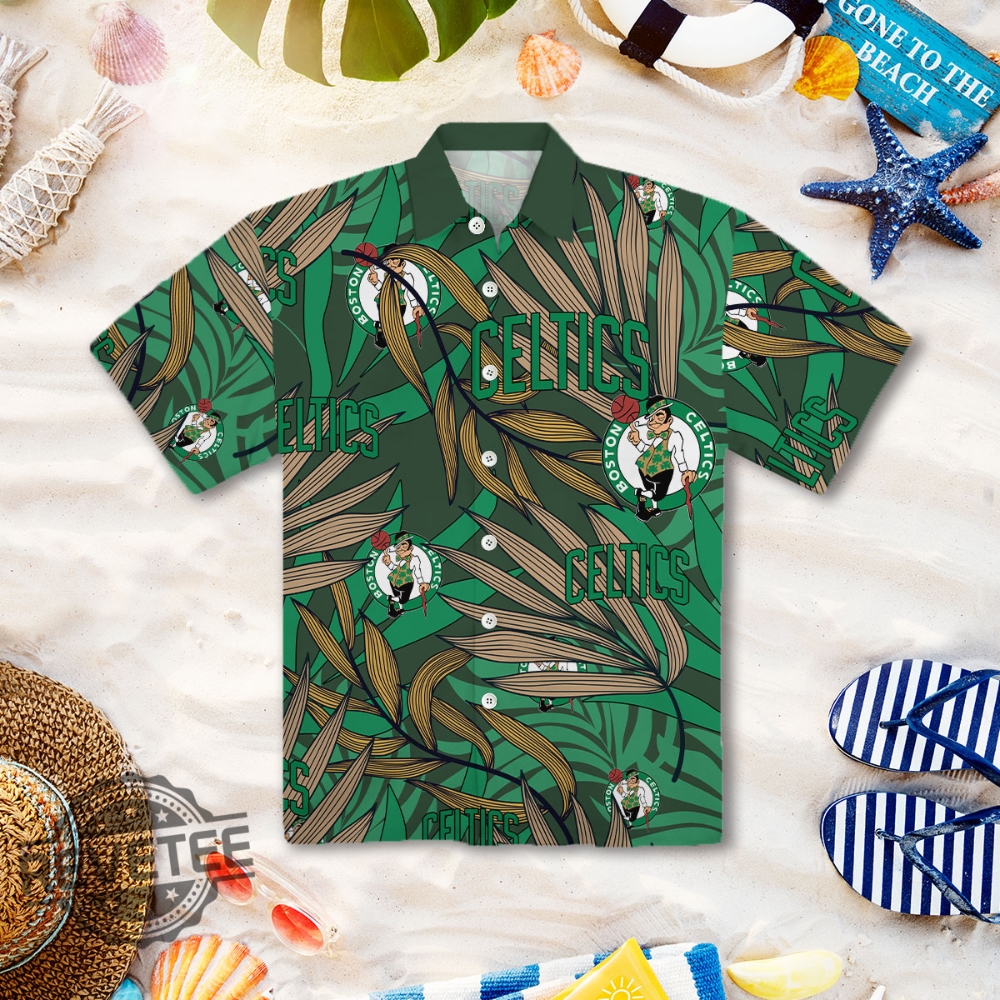 Boston Celtics 2023 Tropical Palm Leaves Aloha Hawaiian Shirt Boston Celtics Hawaiian Shirt New Description
Boston Celtics 2023 Introducing the Boston Celtics 2023 Tropical Palm Leaves Aloha Hawaiian Shirt, the perfect blend of style and team spirit for all Boston Celtics fans. This vibrant and eye-catching shirt is designed to bring a touch of tropical paradise to your wardrobe while showcasing your love for the Celtics.
Crafted with utmost attention to detail, this Hawaiian shirt features a unique design inspired by the lush greenery of tropical palm leaves. The vibrant green color palette perfectly complements the iconic Boston Celtics logo, creating a harmonious fusion of team pride and island vibes.
Made from high-quality materials, this shirt offers exceptional comfort and durability. The lightweight fabric ensures breathability, making it ideal for warm summer days or cheering on the Celtics during intense games. The relaxed fit allows for easy movement, ensuring you stay comfortable whether you're lounging by the beach or attending a Celtics watch party.
The Boston Celtics 2023 Tropical Palm Leaves Aloha Hawaiian Shirt is not just a fashion statement, but a symbol of your unwavering support for the team. Whether you're heading to a game at TD Garden or simply want to showcase your Celtics pride, this shirt is the perfect choice. Its bold design and vibrant colors will make you stand out in any crowd, instantly identifying you as a true Celtics fan.
This Hawaiian shirt is not limited to game days or special occasions. Its versatile design allows you to incorporate it into your everyday wardrobe effortlessly. Pair it with shorts or jeans for a casual and laid-back look, or dress it up with khakis for a more polished ensemble. The possibilities are endless, and the Boston Celtics 2023 Tropical Palm Leaves Aloha Hawaiian Shirt is sure to become a staple in your wardrobe.
In addition to its stylish appeal, this shirt is also a great gift option for any Boston Celtics enthusiast. Whether it's a birthday, holiday, or just a gesture of appreciation, this shirt is guaranteed to put a smile on their face. Its unique design and high-quality construction make it a gift that will be cherished for years to come.
Don't miss out on the opportunity to showcase your love for the Boston Celtics in a fun and fashionable way. Order your Boston Celtics 2023 Tropical Palm Leaves Aloha Hawaiian Shirt today and join the ranks of stylish Celtics fans everywhere. With its exceptional design, comfort, and durability, this shirt is a must-have for any true Celtics supporter.
Boston Celtics 2023 Tropical Palm Leaves Aloha Hawaiian Shirt Boston Celtics Hawaiian Shirt New More Information
For increased durability, our products have double-stitched, ribbed collars.
Enjoy the ease of washing our clothes in the machine without worrying about damage or shrinkage.
Because they are made to be unisex, our items are a versatile addition to any outfit.
We take pleasure in our goods, which are expertly and carefully printed in the USA.
This traditional cotton t-shirt is the pinnacle of high quality and timeless design. It gives a diverse design that strikes the ideal mix between casual and sophisticated thanks to the use of long-lasting materials.
It is a flexible piece that you may wear to any occasion because of its straightforward yet attractive style. Because it is made of premium cotton, it will be able to resist numerous washings without losing its flawless quality or beauty.
Because of its outstanding comfort and classic design, this cotton t-shirt is the perfect addition to your wardrobe. And that you can use for many years. You may shop with confidence knowing that you are obtaining a high-quality item that is both stylish and practical.
Main Characteristics
Unisex 3D Apparel
Material: 95% Polyester, 5% Spandex
Machine washes in the cold with similar colors/no bleach/low iron
About Shirt: Regular fit, lightweight, all-over printing shirt featuring spread collar and short sleeve
Provides the most stylish and comfortable Shirts which can be worn on all occasions
The color could be slightly different between the screen and in practice
Link Pinterest: Boston Celtics 2023 Tropical Palm Leaves Aloha Hawaiian Shirt Boston Celtics Hawaiian Shirt New
Link Twitter: Boston Celtics 2023 Tropical Palm Leaves Aloha Hawaiian Shirt Boston Celtics Hawaiian Shirt New
From: revetee.com